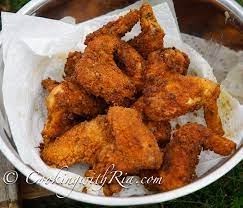 Prep Time, 15 mins
Cook Time, 20 mins
Total Time, 35 mins
Course: Meats
Cuisine: Caribbean
Servings: 5
Ingredients
1 lb chicken parts seasoned and marinated,
3 cloves garlic chopped,
1/2 onion chopped,
4 leaves chadon beni chopped,
3/4 cup flour,
1 egg beaten,
1/2 tsp oregano,
1/2 tsp parsley,
1/2 tsp marjoram,
1/2 tsp basil,
1/2 tsp paprika,
Salt to taste 1/4 tsp.
Oil for frying coconut oil
Instructions
Parboil the chicken for 15 minutes in a about 2 cups of water seasoned with the chopped onion, garlic, a little salt to taste and chadon beni.
Drain and dip in the flour seasoned with the marjoram, basil, paprika, oregano and parsley. Then dip each piece in the egg wash. Dip in the flour again and set aside for 10 minutes.
Fry over a low to medium flame until golden brown on both sides.
Drain on paper towels for about 3 minutes then move to a serving dish. Sprinkle a little salt before serving.
Note: Do not let the oil reach it's smoke point. If the oil is smoking remove it from the flame and or lower the fire.