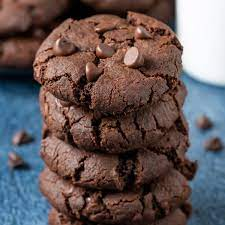 Course: Desserts,
Cuisine: International,
Servings: 12 large cookies.
Ingredients
½ cup granulated sugar,
½ cup brown sugar,
½ cup chocolate powder,
½ cup butter softened,
1 egg,
1 tsp cinnamon,
⅛ tsp salt,
1 tsp baking soda,
1 ½ cups all-purpose flour sifted,
1 ½ tsp. vanilla essence,
¼ c chopped nuts almonds, hazel, or pecan or chocolate pieces,
½ c chocolate sprinkles or chocolate kisses Hershey's,
Instructions
Mix together the brown sugar, granulated sugar and chocolate powder. Mix and set aside.
Sift the salt, cinnamon, baking soda and flour together. Mix and set aside.
Cream the sugars, chocolate, and butter together.
Add the vanilla to the egg and beat together.
Blend the egg into the creamed mixture.
Then stir in the flour mixture.
Mix until a smooth dough is formed.
Note: If you're adding the nuts add it at this step.
Separate dough into small balls. Place in greased trays.
These will make large cookies, about 4 inches in diameter.
Place the chocolate cookies about 2 ½ inches apart.
Note: To maintain uniformity we measured about 2 tbsp of cookie dough for each cookie.
Flatten slightly with the palm of your hand.
Sprinkle chocolate sprinkles or place a chocolate kiss in the center of each cookie.
Bake in a preheated oven at 325 degrees F (160 degree C) for 15 minutes. Of course before I go here are a few tips for your cookies ( You're gonna like this,
1. For the weight conscious……EAT ONLY ONE….
2.If you feel depressed ….Don't eat any of these. Alternatively make a second batch for you alone.
3. Keep toothbrush and toothpaste at hand.
4. Store/ hide in a cool place preferably in an airtight container …with a lock.
5. If you think your chocolate cookies are threatened in anyway hire a security guard, lol,