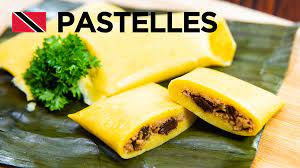 Prep time 40 mins,
Cook time 40 mins,
Total time 1 hour 20 mins,
Recipe type: Breads,
Cuisine: Spanish/ Hispanic,
Serves: 12,
Ingredients,
FILLING:
1 lb minced beef,
2 onions, finely chopped,
1 bunch chive,
1 bunch big leaf thyme,
1 hot pepper to taste, finely chopped,
1 pimento pepper, finely chopped,
1 stalk celery,
2 cloves garlic,
20 leaves chadon beni,
1 bunch fine leaf thyme,
salt to taste,
¼ cup roucou (or ketchup),
2 tbsp. capers (optional),
2 tbsp. raisins (optional),
8 olives chopped finely (optional),
DOUGH:
2 cups yellow cornmeal (Promasa),
3 cups lukewarm water,
4 tbsp. vegetable oil or coconut oil,
¼ lb butter, unsalted,
1¼ tsp salt,
WRAPPING:
2 -3 large fig (banana) leaves,
Strings to tie,
Instructions,
1. Season the meat. Stew the seasoned meat for 15 minutes. Cook well, then add the roucou or ketchup. Remove from heat and set aside.
2. Combine cornmeal, water, salt, and butter to make a soft pliable dough. Divide the dough into small balls (about 12). Cover with damp cloth to prevent drying.
3. Cut the fig leaves and strip them from the midrib. Singe the leaf over a low fire on the stove. Wipe clean.
4. Grind the green seasoning. Mince the meat again to make it smoother. Combine the seasoning and the meat and place back on the stove. Mix thoroughly and add salt to taste. Allow to cool.
5. Dip the ball in the oil. Place on an oiled fig leaf. Use a wooden press to help flatten out the dough. Spoon about 2 tbsp meat filling to the centre of the dough.
6. Fold the fig leaf and tie into a neat package using the string. Place in a pot of water and boil for 15-20 minutes. When cooked, drain the water.
Cornmeal Pastelle ready to be served.
Tip:
You can freeze your pastelles as they are and when you are ready for a few, just boil and drain. Usually some people boil all their pastelles before freezing them. I think this is wasting gas because you still have to boil them when you take it from the freezer. Anyhow that's what we do at home.
Variation on filling:
You can substitute mince beef with chicken or fish or pork; or you can mix beef and pork equally.
For vegetarians:
You can substitute meat with soya or soya bits (soaked in warm water and drained). Season and cook like the meat.