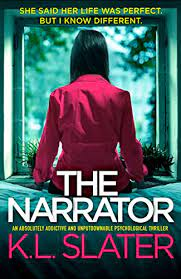 Categories: Mystery, Thriller & Suspense,
Literature & Fiction,
Suspense,
Release date, August 11th 2022,
4.7 out of 5 stars,
Publisher's Summary,
The gripping new Audible Original from queen of suspense K. L. Slater.
When the call came it seemed like the answer to my prayers.
My career as a voice actor had been over for months and me and my little girl Scarlet were living back at my mum's place. I felt like a failure professionally—and with Scarlet having problems at school, as a parent as well.
So, when I was asked to narrate a new book by disappeared novelist Philippa Roberts I jumped at the chance, even if it meant leaving Scarlet with my ex, Hugo, for a few weeks. Hugo, with his perfect new home and his perfect new girlfriend Saskia.
But this isn't a dream come true. It's a nightmare.
There's something hidden in the pages of this book, I'm sure of it. Some clue to Philippa's disappearance. And I don't feel safe. I'm being watched. My room has been searched. Saskia has been calling me in tears. If I don't find answers fast I'll lose more than my second chance.
I'll lose my daughter.
A breath-taking new thriller from the number one author of The Marriage and The Widow. If you like Gone Girl, The Girl on The Train and The Wife Between Us then you will love The Narrator.