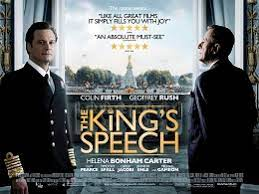 England's Prince Albert (Colin Firth) must ascend the throne as King George VI, but he has a speech impediment. Knowing that the country needs her husband to be able to communicate effectively, Elizabeth (Helena Bonham Carter) hires Lionel Logue (Geoffrey Rush), an Australian actor and speech therapist, to help him overcome his stammer. An extraordinary friendship develops between the two men, as Logue uses unconventional means to teach the monarch how to speak with confidence.
Rating: R (Some Language)
Genre: History, Drama
Original Language: English
Director: Tom Hooper
Producer: Iain Canning, Emile Sherman, Gareth Unwin
Writer: David Seidler
Release Date (Theaters): Jan 28, 2011
Runtime: 1h 58m
Distributor: Weinstein Co
Cast.
King George VI
Lionel Logue
Queen Elizabeth
King Edward VIII
Winston Churchill
Archbishop Cosmo Lang
Myrtle Logue
Stanley Baldwin
Queen Mary
Wallis Simpson
King George V