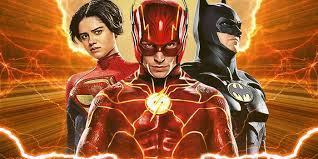 Worlds collide in "The Flash" when Barry uses his superpowers to travel back in time in order to change the events of the past. But when his attempt to save his family inadvertently alters the future, Barry becomes trapped in a reality in which General Zod has returned, threatening annihilation, and there are no Super Heroes to turn to. That is, unless Barry can coax a very different Batman out of retirement and rescue an imprisoned Kryptonian… albeit not the one he's looking for. Ultimately, to save the world that he is in and return to the future that he knows, Barry's only hope is to race for his life. But will making the ultimate sacrifice be enough to reset the universe?
· Rating: PG-13 (Partial Nudity|Action|Sequences of Violence|Some Strong Language)
· Genre: Action, Adventure, Fantasy
· Original Language: English
· Director: Andy Muschietti
· Producer: Barbara Muschietti, Michael Disco
· Writer: Christina Hodson
· Release Date (Theaters): Jun 16, 2023 Wide
· Runtime: 2h 24m
· Distributor: Warner Bros. Pictures
· Production Co: Double Dream, Disco Factory
Cast.
Barry Allen, The Flash
Bruce Wayne, Batman
Kara Zor-El, Supergirl
General Zod
Henry Allen
Nora Allen
Iris West
Alfred Pennyworth
Faora-UI
Patty
Albert
Thomas Curry
David Singh
Gary