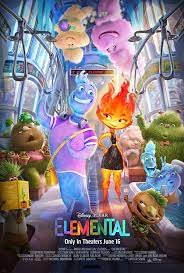 Disney and Pixar's "Elemental," an all-new, original feature film set in Element City, where fire-, water-, land- and air-residents live together. The story introduces Ember, a tough, quick-witted and fiery young woman, whose friendship with a fun, sappy, go-with-the-flow guy named Wade challenges her beliefs about the world they live in.
· Rating: PG (Thematic Elements|Some Peril|Brief Language)
· Genre: Kids & family, Comedy, Fantasy, Animation
· Original Language: English
· Director: Peter Sohn
· Producer: Denise Ream
· Writer: John Hoberg, Kat Likkel, Brenda Hsueh
· Release Date (Theaters): Jun 16, 2023
· Runtime: 1h 43m
· Distributor: Disney/Pixar
· Production Co: Pixar Animation Studios
Cast.
Ember Lumen Voice
Wade Ripple Voice
Bernie Lumen Voice
Cinder Lumen Voice
Gale Voice
Brook Ripple Voice
Clod Voice
Fern Grouchwood Voice