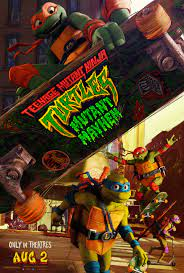 After years of being sheltered from the human world, the Turtle brothers set out to win the hearts of New Yorkers and be accepted as normal teenagers. Their new friend, April O'Neil, helps them take on a mysterious crime syndicate, but they soon get in over their heads when an army of mutants is unleashed upon them.
· Rating: PG (Language|Impolite Material|Sequences of Violence & Action)
· Genre: Kids & family, Comedy, Adventure, Animation
· Original Language: English
· Director: Jeff Rowe
· Producer: Seth Rogen, Evan Goldberg, James Weaver
· Writer: Seth Rogen, Evan Goldberg, Jeff Rowe, Dan Hernandez, Benji Samit
· Release Date (Theaters): Aug 2, 2023 Wide
· Runtime: 1h 39m
· Distributor: Paramount Pictures
· Production Co: Point Grey
Cast.
Donatello Voice
Michelangelo Voice
Genghis Frog Voice
Leatherhead Voice
Leonardo Voice
Rocksteady Voice
Master Splinter Voice
Superfly Voice
Wingnut Voice
April O'Neil Voice
Baxter Stockman Voice
Ray Fillet Voice
Raphael Voice
Bebop Voice
Mondo Gecko Voice
Cynthia Utrom Voice