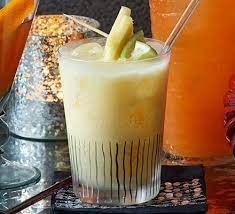 Keep your party guests content with this creamy fruity drink or, of course, keep it all for yourself.
What you'll need.
500ml pineapple juice
250ml malibu
250ml coconut milk
Fresh pineapple chunks and slices of lime on skewers to decorate.
How to make it.
A nice easy one.
Pour the juices, coconut milk and malibu into a jug and stir well.
Put it into the fridge for an hour to chill.
Add ice to glasses, pour the punch and decorate with the pineapple chunks and lime wedges.
Sounds lush, enjoy guys