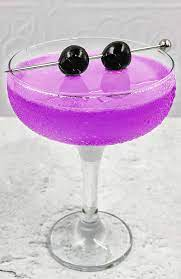 This cocktail was first invented as far back as 1916. If you like something with a tangy, sweet and bitter taste then this one is for you.
What you'll need.
1.5 oz Botanist Gin
0.5 oz Maraschino Liqueur.
0.25 oz Creme de Violette
Brandied Cherries to garnish.
How to make it.
Add all of the main ingredients to a cocktail shaker with ice.
Shake gently.
Strain into a cocktail glass.
Garnish with the brandied cherries.
I wouldn't mind flying off into the sunset with one of these myself. Enjoy guys!