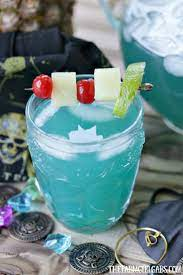 Celebrate summer…and pirates…and Captain Jack Sparrow with this refreshing Disney-Inspired Wrecked Pirate Cocktail! This refreshing summer cocktail is a taste for the tropics. This tropical cocktail is perfect to sip while lounging by the pool.
What you'll need.
· 2 parts spiced rum
· 1 part coconut rum
· 2 parts pineapple juice
· Splash Blue Curacao
· Splash Lemon Lime Soda
· Juice of 1/2 lime
· Fresh Pineapple garnish
· Maraschino Cherries garnish
How to make it.
1. Add 1 cup ice to a shaker.
2. Add the rums, Blue Curacao, pineapple juice and lime juice. Shake well. Pour in a glass and add a splash of lemon-lime soda.
3. Garnish with pineapple and cherries.