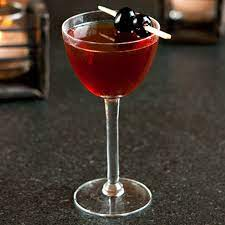 The Rob Roy drink is a Manhattan made with Scotch whisky! This booze-forward cocktail is a sophisticated way to enjoy a good Scotch.
It's a retro slow-sipper that's been around for over a century. Top it with a Luxardo cherry and it's the ideal way to mix up your Manhattan. Let's get mixing!
What you'll need.
2 ounces (4 tablespoons) blended Scotch whisky
1 ounce (2 tablespoons) sweet red vermouth
3 dashes Angostura or orange bitters
For the garnish: Luxardo cherry or other cocktail cherry
How to make it.
Combine the Scotch, vermouth and bitters in a cocktail mixing glass (or any other type of glass). Fill the mixing glass with 1 handful ice and stir continuously for 30 seconds.
Strain into a coupe or cocktail glass. Garnish with a cherry and serve