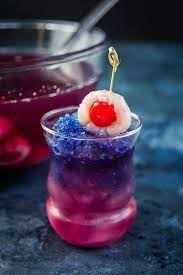 It" may have been a one-eyed, one-horned flyin' purple people eater. but the drink that was named after that ugly, terrifying monster is drop-dead gorgeous. It's a deep, sparkling purple, and the pretty glittery purple sugar around the rim adds even more sass and glamor. It takes only 5 minutes to make and has a sweet, sharply tart flavor that's hard not to love.
What you'll need.
30ml sweet and sour mix
45ml vodka
30ml grenadine
30ml Cranberry or grape juice
Purple sugar Gold edible glitter to garnish
How to make it.
Tip the purple sugar onto a small saucer, wet the rim of a glass with water and dip it into the purple sugar,
set the glass on one side.
Combine vodka, blue curacao, sweet and sour mix, grenadine, and cranberry juice in a cocktail shaker filled with ice and shake thoroughly.
Fill the glass half full with ice and Pour in the purple people eater cocktail, sprinkle lightly with the gold edible glitter and serve.