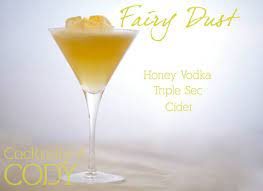 Be like Tink and have a little bit of fairy dust!
What you'll need.
3 fluid ounces vodka
1 fluid ounce sour apple schnapps
1 lime wedge
1 straw sour candy powder
How to make it.
Step 1
Pour the vodka, schnapps, and triple sec into a cocktail shaker over ice. Cover, and shake until the outside of the shaker has frosted. Wet the rim of a chilled martini glass with a lime wedge, and dip into the sour candy powder. Strain the cocktail into the martini glass to serve.
You can fly, you can fly you can fly
.