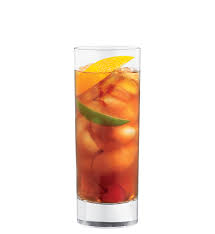 What you'll need.
40 ml (1 1/3 oz.) dry gin
15 ml (1/2 oz.) almond liqueur
120 ml (4 oz.) cranberry juice
120 ml (4 oz.) cola
Ice cubes
1 lime wedge
1 orange wedge
1 maraschino cherry
How to make it.
Combine the dry gin, almond liqueur, cranberry juice and cola in a highball glass containing a few ice cubes.
Stir with a mixing spoon.
Garnish with the orange and lime wedges, as well as the maraschino cherry.
Feel free to wear your lace fingerless gloves and funky ear rings while making it if you so wish!