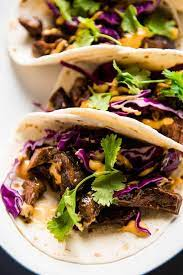 This Korean taco recipe was given to me by a Korean friend. It's so full of flavor! I did tweak it a little to add more spice. Serve with your favorite taco toppings.
Prep Time: 20 mins
Cook Time: 8 hrs
Total Time: 8 hrs 20 mins
Servings: 8
Yield:
16 tacos
Ingredients
1 (3 pound) beef chuck roast, trimmed
½ medium onion, diced
½ cup dark brown sugar
⅓ cup soy sauce
10 cloves garlic
1 medium jalapeno pepper, diced (Optional)
1 (1 inch) piece fresh ginger root, peeled and grated
2 tablespoons seasoned rice vinegar
1 tablespoon sesame oil
salt and ground black pepper to taste
16 (6 inch) corn tortillas (Optional)
Directions
Step 1 Place chuck roast into a slow cooker with onion, brown sugar, soy sauce, garlic, jalapeño pepper, ginger, rice vinegar, sesame oil, salt, and pepper. Cover and cook until meat is tender and can easily be pulled apart with a fork, on Low for 10 hours or High for 8 hours.
Step 2 Transfer roast to a cutting board and shred meat with two forks. Return to the slow cooker and mix with the juices.
Step 3 Serve with corn tortillas.