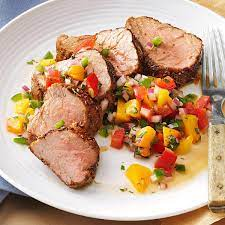 A quick and easy way to grill pork tenderloin. Coated in a Caribbean spice mixture, grilled, and served with homemade peach salsa.
Cook Time: 20 mins
Additional Time: 5 mins
Total Time: 40 mins
Servings:4
Ingredients
¾ cup fresh peaches, peeled and diced
1 small red bell pepper, chopped
2 tablespoons finely chopped red onion
2 tablespoons minced fresh cilantro
1 tablespoon lime juice
1 clove garlic, minced
⅛ teaspoon salt
⅛ teaspoon ground black pepper
2 tablespoons olive oil
1 tablespoon brown sugar
1 tablespoon Caribbean jerk seasoning
1 teaspoon dried thyme
1 teaspoon dried rosemary
½ teaspoon seasoned salt
1pork tenderloin
Directions
Step 1 Combine peaches, bell pepper, red onion, cilantro, lime juice, garlic, salt, and pepper in a bowl. Set peach salsa aside.
Step 2 Combine olive oil, brown sugar, Caribbean jerk seasoning, thyme, rosemary, and seasoned salt in a second small bowl. Rub tenderloin with the spice mixture.
Step 3 Preheat an outdoor grill for medium heat and lightly oil the grate.
Step 4 Place tenderloin on hot grill and cook covered for 9 to 11 minutes. Turn and grill until tenderloin is slightly pink in the center, 9 to 11 minutes more. An instant-read thermometer inserted into the center should read at least 145 degrees F (63 degrees C). Remove from heat, cover, and let sit for 5 minutes before slicing. Serve with peach salsa.