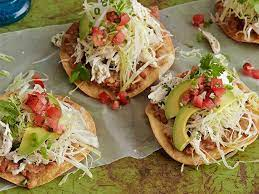 Use up leftover tortillas and roast chicken in this easy homemade chicken tostada recipe.
Preparation time less than 30 mins
Cooking time 10 to 30 mins
Serves 4
Ingredients
6 small corn tortillas
olive oil, for brushing
400g tin refried beans
¾ tsp ancho chilli powder or chipotle paste
½ tsp ground cumin
¼ tsp garlic granules
2 ripe avocados
1 tbsp fresh lime juice
handful fresh coriander, finely chopped
250g/9oz roast chicken, shredded
salt and freshly ground black pepper
For the pico de gallo
2 large ripe tomatoes, deseeded and finely chopped
½ onion, finely chopped
handful fresh coriander, roughly chopped
1 jalapeno chilli, finely chopped (optional)
1 lime, juice only
To serve
shredded iceberg or romaine lettuce
jalpeno chillies in brine
125g/4½oz Cheddar, grated
soured cream
Method
Step 1. Brush both sides of the tortillas lightly with oil. Cook on a griddle pan for 2 minutes on each side, or until crisp and golden.
Step 2. In a small saucepan, mix together the refried beans, chilli powder, cumin and garlic granules and season with salt. Cook over a medium-low heat, stirring often, until hot through.
Step 3. To make the pico de gallo, mix all the ingredients together in a bowl. Season with salt and set aside
Step 4. Using a fork, mash the avocados with the lime juice. Season with salt and pepper and stir in the coriander.
Step 5. To assemble the tostadas, layer each tostada with guacamole, the bean mixture, lettuce, chicken, chillies, Cheddar, pico de gallo and soured cream. Serve immediately.