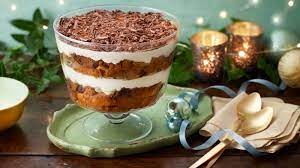 Need a last-minute pudding on the Christmas table? Try using up that panettone in a quick make-ahead tiramisu that requires no cooking.
Preparation timeless than 30 mins
Cooking time no cooking required
Serves 6-8
Ingredients
4 shots espresso, or a four-cup cafetiere of strong coffee
2 tbsp caster sugar
50ml/2fl oz amaretto liqueur, or to taste
1 ready-made panettone, cut into1cm/½in thick slices
500g/1lb 2oz mascarpone
1 vanilla pod, split, seeds scraped out
150g/5oz icing sugar
200ml/7fl oz double cream, whipped until soft peaks form when the whisk is removed
cocoa power, for dusting
dark chocolate, grated, to garnish
Method.
Step 1. Mix the espresso, caster sugar and amaretto, to taste, in a large bowl. Add the panettone slices to the coffee mixture and set aside.
Step 2. Place the mascarpone, vanilla seeds and icing sugar into a separate bowl and mix together. Fold in the whipped double cream.
Step 3. Place pieces of soaked panettone into a large serving dish to line the bottom. Spread half the mascarpone and cream mixture across the soaked panettone slices, then place another layer of panettone slices on top.
Step 4. Spoon more cream over the top and sprinkle with the cocoa powder. Transfer to the fridge to chill for up to 2 hours.
To serve, sprinkle with gratings of dark chocolate.