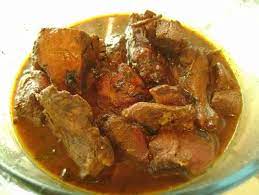 Course: Meats
Cuisine: Caribbean. Creole.
Prep time: 15 minutes.
Cook time: 40 minutes.
Total Time: 55 minutes.
Ingredients.
Chicken (2-3 pounds), cut up, seasoned and marinated overnight for at least 1 hour.
3 tablespoons of sugar
1 small onion, chopped
3 cloves of garlic, chopped.
1 sprig of chive, chopped.
2 sprigs of fine leaf thyme, chopped.
2 leaves of big leaf thyme, chopped.
2 sprigs of parsley, chopped.
1 teaspoon of tomato paste (optional.)
Salt to taste.
Pepper to taste.
Water.
Instructions.
Heat a deep heavy pot on a medium fire.
Add the sugar to the pot.
Allow it to simmer and melt until it looks golden brown.
Next add the marinated meat and one quarter of a cup of water.
Allow the browning to coat the meat evenly.
Lower the heat and allow to simmer for 2 minutes.
Add the chopped, fresh herbs.
Add one and a half cups of water to just about cover the chicken.
Add salt, pepper and chopped herbs.
Cook until the meat is tender (about 25-30 minutes).
You may add a teaspoon of tomato paste to taste.
Serve with rice.