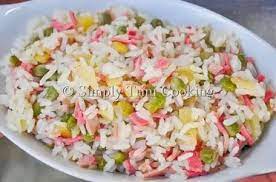 Course: Rice Dishes,
Cuisine: Fusion,
Ingredients.
1 cup uncooked rice,
2 cups fresh or frozen green beans or pigeon peas,
1 cup pineapple chunks,
1 onion minced,
2 cloves garlic minced,
2 tbsp oil,
½ tsp each fine leaf thyme parsley, chadon beni,
¼ tsp red pepper flakes crushed,
1 ½ cup bacon or meat of choice chopped,
salt to taste,
Instructions.
Boil rice, drain and set aside.
Boil the peas until tender. Drain and set aside.
Chop the pineapple,
Chop the meat and set aside.
Note: You can use any meat of choice like ham, bacon, turkey or even leftovers.
Saute the onion and garlic.
Then add the meat of choice and the peas. Stir for 1 minute.
Add the pineapple. Stir.
Add the rice and seasonings (fine leaf thyme, parsley, chadon beni,
red pepper flakes) mix well. Adjust salt to taste.
Serve hot with a side of fresh green salad if you like.