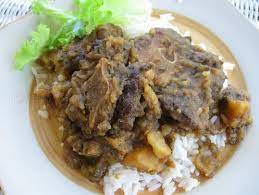 Course: Meats,
Cuisine: Caribbean,
Prep Time, 20 minutes,
Cook Time, 35 minutes,
Total Time, 55 minutes,
Servings: 4,
Ingredients.
1 lb ox tail,
2 medium sized potatoes,
1 carrot,
1 small onion chopped,
2 cloves garlic chopped,
1 sprig thyme,
1 chive chopped,
2 tablespoon oil,
Salt to taste,
Water,
Instructions.
In the pressure cooker, saute onions garlic and seasonings. Then add the ox tail.
Add a little water to almost cover the meat and pressure cook for about 10 to 15 minutes.
Add the potatoes and carrots, a little water. Add salt and seasonings to taste. Pressure cook for about 7 to 10 minutes.
Serve with rice.