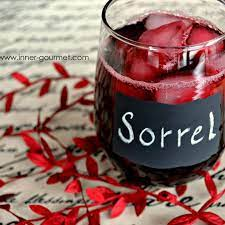 Prep time 15 mins,
Cook time 20 mins,
Total time 35 mins,
Recipe type: Drink,
Cuisine: Caribbean,
Serves: approx. 2.8L,
Ingredients
1 lb. sorrel,
11 cups water,
1 cup sugar, granulated,
2 sticks cinnamon,
5 cloves (optional),
4 tbsp. grated ginger,
¼-1/2 cup rum (optional),
Instructions
1. Wash the sorrel. Separate the sepals from the 'seed'. Wash the sorrel sepals again. Place in a deep pot and add the water, cinnamon, and optional spices.
2. Boil for about 20 minutes or until the sepals begin to lose their colour and look jelly-like. Strain the sorrel and allow to cool. After it cools, sweeten with sugar and add the rum if desired.
3. Transfer to a sterilized bottle and refrigerate. Serve chilled.