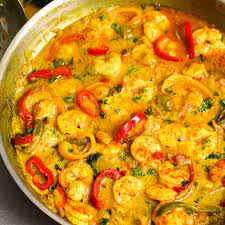 Prep time 30 mins
Cook time 10 mins
Total time 40 mins
Recipe type: Seafood
Cuisine: East Indian
Serves: 3
Ingredients.
1½ lbs shrimp, cleaned, seasoned and marinated,
3 cloves garlic, chopped finely,
½ medium onion, chopped,
2 tbsp. oil,
5 leaves chadon beni, chopped finely,
1 tbsp curry powder,
½ tsp geera (cumin) powder,
½ tsp masala powder,
1 tsp saffron (tumeric) powder,
3 potatoes,
Salt to taste,
Pepper to taste,
Note: You can season the shrimp similar to the curry goat.
Instructions.
1. Saute onion and garlic in the oil. Then mix the curry, geera, masala, and saffron (tumeric) in about ¼ cup of water and pour into the pot. When the curry is nearly dried down, add the shrimp and coat evenly with the curry.
2. Allow to cook a bit ( about 1 minute) in its juices then add ½ cup water. Cover the pot and simmer over a medium flame for 5 minutes. After the 5 minutes add the chadon beni, salt and pepper. Continue to simmer for another 5 minutes.
(Note: You can either use a whole hot pepper or pepper sauce).
3. Peel and cut the potatoes in 8, then add to the shrimp. Add enough water to cover the potatoes and simmer for another 15 minutes or until the potatoes are cooked. Adjust salt and pepper if necessary. To test the potato, cut it with a knife or edge of a spoon. The curry shrimp looks ready now.
Serve: over rice; with buss up shut; dhal puri or bake.