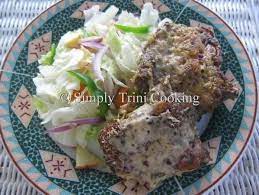 Prep time 180 mins,
Cook time 45 mins,
Total time 3 hours 45 mins, 
Recipe type: Meats, Cuisine: Fusion,
Serves: 4,
Ingredients.
2 chicken leg and thigh,
1½ cup Parmesan cheese, freshly grated,
1 tsp. oregano, * 3 leaves chadon beni, chopped,
2 tsp. garlic powder,
2 tsp. parsley,
2 tsp. thyme,
2 tsp. black pepper,
2 tsp. paprika,
2 tbsp oil,
Instructions.
1. Preheat oven to 425 degrees F.
2. Separate the legs from the thighs. Season and marinate chicken for at least 3 hours.
Note: I used our famous green seasoning along with some chadon beni, garlic, onion etc. to season the chicken. You can add your own blend of seasonings.
3. Place pot over medium flame and add oil Add chicken in hot oil and brown on both sides for about 4 minutes (i.e. 2 mins each side)
4. Place chicken in greased dish, cover with foil and bake for 30 – 45 minutes at 350 degrees F.
5. While your chicken is baking, mix all the seasonings with the cheese. Toss well and set aside.
6. After 30 minutes remove foil and sprinkle half of the cheese over the chicken. Cover back with the foil and bake for 10 minutes.
7. Afterward turn the chicken over and sprinkle the rest of Parmesan cheese. Cover with foil and bake for 10 more minutes or until cheese has melted.
8. Serve cool.