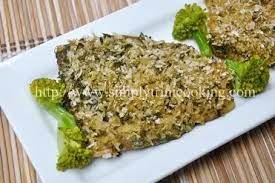 Course: Seafood,
Cuisine: Caribbean,
Ingredients.
3 slices swai fillets or any other sliced fish of choice,
1 tbsp geera powder divided,
1 cup panko bread crumbs,
½ cup onion minced,
½ tbsp duck and goat curry powder,
¼ tsp oregano, * ½ tsp paprika,
4 cloves garlic minced,
2 pimento peppers minced,
1 chive chopped, * 1 lime,
2 tbsp olive oil,
10 leaves chadon beni minced,
Salt to taste,
Pepper to taste,
Instructions.
Wash fish with lime. Cut each slice in two. Season with 7 leaves chadon beni, ½ tsp salt or to taste, pepper to taste, onion, garlic, pimento, chive, curry powder and ½ tbsp geera powder . * Set aside and let marinate at least 1 hour.
* Note: The pepper will be for you to choose. It could either be raw pepper, pepper sauce or just simply, cayenne pepper.
Pour breadcrumbs into a bowl large enough for the slices.
Season with ½ tbsp geera, oregano, paprika and 3 leaves chadon beni and ¼ tsp salt. Mix well. * Pour olive oil in a small bowl.
Brush one side of the fish slice with the olive oil then press down the fillet in the seasoned breadcrumb mixture.
Place wax paper on baking sheet or flat baking pan.
Brush oil on the wax paper then place fish crust side up.
Preheat oven at 400 degrees F then lower to 350 degrees F and bake for 15 mins. Serve warm.