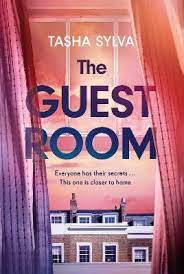 Publication date: July 11th, 2023,
2.3 out of 5 stars,
3 ratings,
Length: 11 hrs and 29 mins,
Publisher's summary,
Downright irresistible, The Guest Room is a riveting psychological thriller debut about the secrets people hide and the lengths that one woman will take in the pursuit of truth, justice, and an overwhelming thrill.
The mysterious disappearance of Tess's sister Rosie leaves her grief-stricken and lonely. And when she decides to rent out her sister's old room to guests, she develops a dangerously bad habit she can't seem to quit. Tess's addiction to snooping through their belongings brings an intense adrenaline rush at the possibility of being caught, as she steals forbidden glimpses into the lives of strangers. Amid a numbing pain and loss, the excitement of these invasive investigations is the only thing that makes her feel again.
The luggage of her newest lodger, Arran, introduces a salaciously detailed diary, its secrets almost begging for Tess's probing eyes. As she reads, she learns about Arran's infatuation with a beautiful stranger. But the more deeply she dives into the pages, the more sinister and menacing his crush becomes.
Drawn to danger and determined to protect this mystery woman the way she couldn't protect Rosie, Tess begins to follow Arran. Watching from the shadows of London street corners, Tess must find the object of his attraction. Yet she can't help but notice similarities between the woman in the diary and herself. Who is truly watching whom?
The Guest Room is a compulsive thriller that will leave listeners wondering "Could someone be watching me?"
A Macmillan Audio production from Henry Holt and Company.