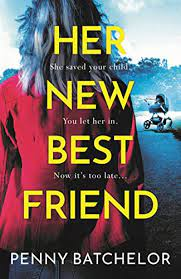 Categories: Mystery, Thriller & Suspense,
Psychological,
Suspense,
Publication date: November 5th, 2021,
4.2 out of 5 stars,
92 global ratings,
Publisher's Summary,
Mum-of-two Audrey only looks away from the stroller for a moment, as her daughter runs off across the park. But the next thing she knows, her baby son is rolling towards the lake.
When Claire steps in to prevent disaster, Audrey is beyond grateful. She can't imagine what would have happened if Claire hadn't been there that day.
As Claire and Audrey grow closer, Audrey couldn't ask for more from her new best friend.
But when tragedy strikes for a second time, Audrey discovers that Claire wasn't who she thought she was… and now it's far too late…
A totally addictive psychological thriller with a breath-taking twist. Fans of K.L. Slater, Shalini Boland and Sue Watson will be gripped from the very first page.