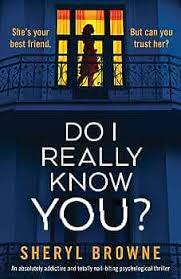 She's your oldest friend and you tell each other everything. So you'd know if she'd done something terrible, wouldn't you?
Maddie and Kiara have been best friends since they met on their first day at university. They have always shared everything with each other, everything except one big secret, which Kiara knows would tear them apart…
When the police knock on Maddie's front door as she and husband Nick are getting ready for the morning school run, she's not expecting to hear what they have to tell her.
Kiara is dead.
And when Kiara's death is ruled as suicide, Maddie can't believe it. She knew everything about her best friend, didn't she?
Walking into the plush apartment Kiara only recently moved into, Maddie soon discovers that her best friend's life wasn't as happy as she thought. Is that blood on the kitchen floor? And why didn't Kiara tell her about secret meetings with a man Maddie knows well?
What Maddie learns next has her questioning who her best friend really was. And now she's discovered Kiara's web of lies, could her own life be in danger?
Perfect for fans of The Girl on the Train, Gone Girl and The Wife, Do I Really Know You? is a gripping new psychological thriller from bestselling author Sheryl Browne. Once you start reading, you won't be able to stop!