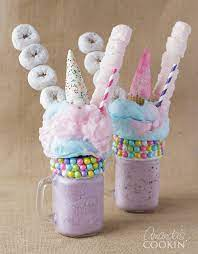 Absolutely perfect for those hot sunny days in the garden.
What you'll need.
30ml Strawberry Vodka,
30ml White chocolate liqueur,
Strawberry ice cream,
Garnish. E.G; whipped cream,
glitter sugar sprinkles.
How to make it.
1. Rim the edge of your glass with frosting and sprinkles, set aside. 2. In a blender, combine ice cream, milk, strawberry vodka and white chocolate liqueur until smooth.
3. Pour it into your garnished glass and top with whipped cream and the glitter sugar sprinkles.
Sit back and enjoy, a very naughty but very nice treat