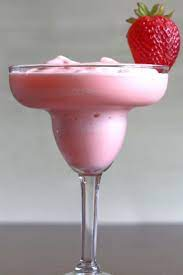 Prep time: 8 minutes
Total time: 8 minutes
The strawberry banana margarita takes the traditional margarita recipe and upgrades it to a smoothie. It's the actual fruit that makes this one thick and delicious.
What you'll need.
1 cup of strawberries, hulled, halved and frozen
1 ripe banana, peeled, sliced and frozen
4 ½ ounces tequila
1 ½ ounces triple sec
2 tablespoons fresh lime juice
1 cup crushed ice.
How to make it.
Chop the strawberries and bananas.
Freeze the strawberry and banana slices for a couple of hours.
You can optionally put your liquor bottles in the freezer for about 20 minutes toward the end if you want everything super cold.
Put everything in the blender and blend in short spurts as you want a smoothie that is still thick.
Pour into frosted margarita glasses and serve.