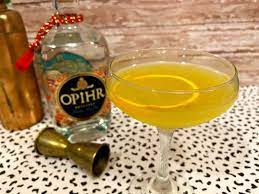 The ingredients in Solomon's Bazaar are a little more exotic and the flavor profile's more sophisticated but this drink is still far from difficult to make.
What you'll need.
1 1/2 – 2 oz. gin
1/2 oz. freshly-squeezed orange juice
1/2 oz freshly-squeeze lemon juice
zest from an orange
1/2 oz honey
1/4 teaspoon rosewater (it's potent- always err on the side of too little)
a couple dashes of cardamom bitters
How to make it.
Zest half an orange over your cocktail shaker.
Add ice.
Pour in gin, juice, & honey.
Carefully add a quarter teaspoon of rosewater. You can always add more if you want but many drinks are accidentally ruined by using too much.
Add two dashes of cardamom bitters (or traditional aromatic bitters if its what you have).
Shake shake shake.
Strain into a coupe glass.
Sip & find yourself transported to the spice markets of the ancient Middle East.