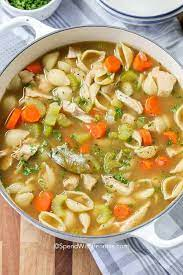 Want to change things up a bit this year with your turkey leftovers? Now here's a detour from tradition, a riff on a classic Middle Eastern lemon chicken soup.
The strong flavor of turkey meat holds up beautifully to the acidic lemon and bright turmeric, cumin, and ginger spices. The addition of barley gives the soup body.
We used turkey stock from the carcass of a roast turkey, but you could easily use chicken stock.
Turkey Soup with Lemon and Barley
PREP TIME 15 mins
COOK TIME 40 mins
TOTAL TIME 55 mins
SERVINGS 6 servings
If you are cooking gluten-free, use rice instead of barley.
*Use a vegetable peeler to peel strips of zest from a lemon. Use a sharp knife to scrape out and discard any of the white pith that still remains on the inside of the zest strips.
Ingredients
3 tablespoons extra virgin olive oil
1 large onion, grated or minced
3 cloves garlic, minced
1 teaspoon ground turmeric
1/2 teaspoon ground cumin
1/2 teaspoon ground ginger
Salt
Pepper
6 cups turkey stock or chicken stock
Lemon zest strips, from 1 lemon*
1/2 to 1 cup barley (more barley will yield a thicker soup)
2 cups cooked turkey, chopped
2 tablespoons lemon juice
1/4 cup parsley, chopped
1/4 cup cilantro, chopped (can sub with more parsley)
Method
Sauté the onion, garlic, spices:
Heat the olive oil over medium-high heat in a heavy pot or Dutch oven. Add the grated onion and cook until the onion is translucent, about 3 minutes. Stir in the minced garlic and cook another minute, then mix in the turmeric, cumin, ground ginger and a generous pinch of salt.
· Add stock, zest, bring to simmer then add barley:
Pour in the turkey stock and add the strips of lemon zest. Bring to a simmer, then add the barley. Simmer gently until the barley is cooked, about 20-30 minutes.
· Add cooked turkey, lemon juice, parsley, cilantro, salt, pepper:
When the barley is cooked through, add the chopped cooked turkey, lemon juice, parsley and cilantro, and salt and pepper to taste. Cook gently just until the turkey is warmed through, about 3-5 minutes. Remove the lemon zest strips before serving.,