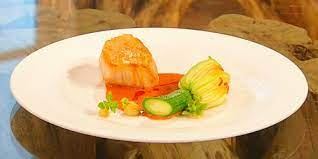 Sweet scallops are served with stuffed courgette flowers and prawn sauce for an impressive summer meal.
Preparation time: less than 30 mins
Cooking time: 1 to 2 hours
Serves 2
Ingredients
For the tomato fondue
2 tbsp olive oil
1 shallot, finely chopped
1 garlic clove, finely chopped
6 tomatoes, blanched and peeled
For the prawn sauce
300g/10½oz raw shell on prawns, roughly chopped
1 carrot, roughly chopped
1 bulb fennel, roughly chopped
1 shallot, roughly chopped
1 stick celery, roughly chopped
1 garlic clove
1 bay leaf
3 sprigs each, chervil, tarragon, fennel fronds
2g fennel seeds
2g coriander seeds
185ml/6fl oz bottle white wine
100ml/3½fl oz brandy
500ml/18fl oz chicken stock
200ml/7fl oz double cream
250g/9oz butter
pinch cayenne pepper
For the crab-stuffed courgette flower
50g/1¾oz white crab meat
pinch basil leaves, finely chopped
pinch lemon verbena leaves, finely chopped
1 bunch wild bronze fennel, finely chopped
30g/1oz tomato fondue, from above
1 lemon, zest and juice
Espelette pepper
2 courgette flowers
salt and freshly ground black pepper
For the scallops
2 extra large scallops, shucked and cleaned, roe removed
curry salt (5g curry powder mixed with 5g fine salt)
vegetable oil
½ lemon, juice only
To serve
lemon purée (optional)
fennel flowers
basil leaves
100ml/3½fl oz olive oil
Method
Step 1. To make the tomato fondue, heat some olive oil in a pan over a medium heat and gently fry the shallot and garlic until softened. Add the tomatoes and cook gently for around 1 hour, until reduced and thick. Set aside.
Step 2. To make the prawn sauce, heat some olive oil in a saucepan and gently fry the prawns and vegetables until lightly coloured. Add the herbs and spices and deglaze with the white wine and brandy. Add the chicken stock and simmer. Blend and pass through a fine sieve. Add the cream and butter and mix until the butter is melted in. Finish with the lemon juice and keep warm.
Step 3. To make the stuffed courgette flowers, mix the crab meat, herbs, tomato fondue, lemon zest and juice and Espelette pepper together in a bowl. Season with salt and pepper and place into a piping bag. Fill the courgette flowers with the mixture, then place in a steamer basket over a pan of boiling water and steam for 3–4 minutes, until warm. Brush with olive oil before serving.
Step 4. Preheat the oven to 200C/180C Fan/Gas 6.
Step 5. To cook the scallops, season them with the curry salt, then heat a little oil in an ovenproof frying pan and brown on both sides, then place in the oven for 3 minutes. Finish with the lemon juice.
Step 6. To serve, place the courgette flowers onto plates with the scallops, pipe dots of the lemon purée (if using) around, then aerate the sauce with a handheld blender for 30 seconds and pour into the centre of the plate and garnish with the herbs.