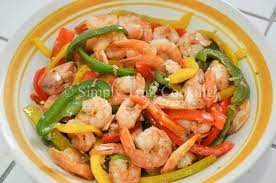 Ingredients.
1 red, green and yellow bell pepper.
1 to 2 fish fillets.
1 minced garlic clove.
2 teaspoons of minced ginger.
1 pimeto pepper, finely chopped.
2 tablespoons of green seasoning.
3 tablespoons of cherry brandy.
1 teaspoon of soya sauce.
1 teaspoon of worcestershire sauce.
1 teaspoon fo chinese five spice powder.
1 tablespoon of brown sugar.
1 tablesoppon of oil.
2 tablespoons of butter.
To cook the shrimp.
1 clove of garlic, chopped.
1 pimeto pepper, finely chopped.
1 teaspoon of pepper flakes.
half an onion, chopped.
4 ounces of oyster mushrooms (optional).
30 peeled and deveined medium sized shrimp, seasoned.
Instructions.
Step 1. Remove the seeds from the sweet peppers and cut into julienne sized strips.
Step 2. Slice the fish and season with the green seasoning, pimeto pepper, garlic, five spice and ginger.
Step 3. Add the cherry brandy, soya sauce and Worcestershire sauce. Set aside to marinate for 30 minutes.
Step 4. Remove the fish from the marinade and add the sugar and cornstarch. Mix well.
Step 5. Heat the oil in a deep saucepan or wok. add the marinade and simmer for 1 minute.
Step 6. Add the fish, allow to simmer on a low flame. Turn the fish so it can cook on both sides.
Step 7. While the fish is cooking it is now time to cook the shrimp. Melt the butter into a medium sized pot or skillet. Saute the garlic, onion and pepper. Add the shrimp the optional mushrooms and the pepper flakes. Cook for about 3 minutes. Stir in the sweet pepper for about 1 minute. Remove the shrimp and sweet pepper and pour over the fish. Stir briefly until the sauce covers all the ingredients.
Simmer for about 2 minutes.
Serve hot and enjoy!