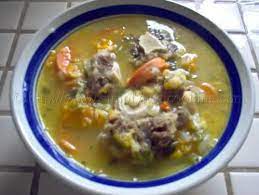 Course: Soups,
Cuisine: Caribbean,
Prep Time, 10 minutes,
Cook Time, 20 minutes,
Total Time, 30 minutes,
Servings, 4,
Ingredients.
1 lb oxtail,
1 sprig fine leaf thyme,
1 chive chopped,
1 sprig parsley chopped,
1 carrot chopped,
1 bouillon cube optional,
½ lb pumpkin chopped,
½ cup split peas,
1 small onion chopped,
2 pimento peppers chopped,
3 cloves garlic crushed,
Salt to taste,
Water,
Instructions.
Wash the ox tail and pressure cook for 15 minutes.
In the mean time chop the herbs and set aside. Add the split peas to the ox tail and add a little water if necessary. Pressure cook for about 10 mins.
Chop the carrot and pumpkin.
Add the carrot, pumpkin and chopped herbs to the split peas nd oxtail and pressure cook for about 5 to 7 mins. Add bouillon cube and salt to taste.
Serve hot.