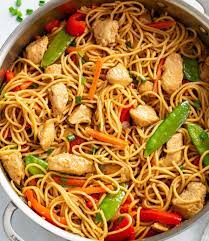 Prep time 15 mins,
Cook time 15 mins,
Total time 30 mins
Recipe type: Meats,
Cuisine: Chinese,
Serves: 5,
Ingredients.
184 g loo mein egg noodles (I used the Sincere Brand. Basically about half pack. ), Approximately 1 lb seasoned chicken, diced (may use boneless),
1 cup mushrooms, sliced,
½ small cabbage, sliced thinly,
1 large carrot, sliced,
1 large sweet pepper, sliced,
1 sprig chive (cut 2″),
½ large onion or 1 small onion,
Ginger and garlic, minced,
4 tsp. water,
2 tsp. salt (optional),
½ tsp. sugar,
2 tsp. black soy sauce,
Pinch pepper powder,
1 tsp. tapioca or corn starch (for solution),
3 tbsp. cooking oil (safflower),
A few drops of sesame oil, 
Instructions.
1. Boil and drain the noodles. Wash with some cold running water. Set aside.
2. Cut up the mushrooms, cabbage, chicken, carrot, sweet peppers, onion and mince the garlic and ginger.
3. Note: During this preparation also mix 2 tsp. water with the salt, sugar, black soy sauce and pepper powder. Also mix 2 tsp of water with the cornstarch separately. Set aside.
4. Heat the oil in the wok. Add the chicken and stir until the chicken is cooked. Add the mushrooms, ginger and garlic. Stir fry for one minute over high heat. Then add the onion carrots, sweet pepper, and cabbage. Pour in the seasonings, i.e. Soy sauce mixture and starch solution and stir evenly for about two minutes until the veggies are cooked .
5. Turn off heat, add the egg noodles and a few drops of sesame oil and toss. Garnish with chive. Serve hot.
6. Nutrition Information
Calories: 447.9 kcal
Fat: 18 g
Carbohydrates: 38.7 g
Sugar: 4.5 g
Fiber: 3.9 g
Protein: 32 g
Cholesterol: 114 mg.