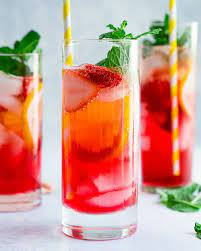 Here's the very best vodka spritzer, refreshing and perfect for parties! It's beautiful, full of fruity flavor and easy to whip up.
What you'll need.
· 1 lemon
· 1 cup sliced strawberries
· 12 ounces (1 ½ cups) vodka
· 3 ounces (6 tablespoons) simple syrup
· 3 ounces (6 tablespoons) unsweetened 100% cranberry juice*
· Soda water, for serving
· Ice, for serving
· For the garnish: 1 handful fresh mint leaves
How to make it.
1. Slice the lemon into rounds. Thinly slice the strawberries.
2. Place the lemons and strawberries in a pitcher with the vodka, simple syrup, and cranberry juice. Marinate at least 30 minutes (or up to 4 hours).
3. To serve, pour 3 ounces (6 tablespoons) of the vodka mix over ice and top with a splash of soda water to taste. Garnish with the fruit from the pitcher and sprigs of fresh mint leaves.