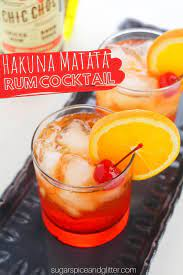 A fun Disney cocktail recipe for a Lion King movie night. You'll have no worries after a couple of these sunset-inspired cocktails.
What you'll need.
1 oz grenadine or maraschino cherry syrup, or to taste
1 1/2 oz spiced rum
1 1/2 oz coconut rum
1 1/2 oz banana liquer
4 oz pineapple juice
Ice
How to make it.
Add grenadine or maraschino cherry syrup to the bottom of each glass (1/2 oz each) and fill each glass with ice.
Pour in the liquors one at a time – spiced rum, banana liquor, and coconut rum (3/4 oz each).
Top with pineapple juice, and garnish with an orange slice for the sun and a maraschino cherry as a nod to Simba's anointment (the red mark made by Rafiki).
Enjoy immediately.
NOTES
To make a LARGE PITCHER, combine 1 cup spiced rum, 1 cup coconut rum, 1 cup banana liqueur and 2 1/2 cups pineapple juice. Add the grenadine to each individual glass to still achieve the ombre sunset effect.