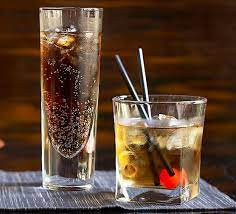 A classic black russian cocktail is made with vodka, coffee liqueur and cola. Garnish with a maraschino cherry and serve as a decadent after-dinner drink.
What you'll need.
25ml coffee liqueur
ice
1 maraschino cherry
cola to top up, chilled (optional)
How to make it.
STEP 1
Put the vodka and the coffee liqueur into a tumbler filled with ice and stir gently for 30 secs – 1min. Add the cherry and serve. Top with a splash of chilled cola if you prefer a longer drink.