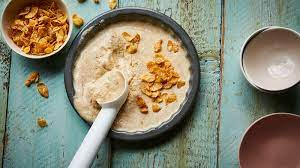 Making ice cream needn't be a chore – this family favourite has just three ingredients and is the work of a moment, with no specialist equipment needed. It also works with regular chocolate pops, cornflakes, cinnamon squares and puffed rice cereals, including cocoa-flavoured ones – feel free to experiment with your favourite cereals!
Cooking time no cooking required
Serves 4
Ingredients
120g/4½oz honey nut cornflakes (or other cereal, see above), plus extra to serve
100ml/3½fl oz full-fat coconut milk
397g tin condensed milk
Method
Step 1. Tip the cornflakes into a blender, add the coconut milk and condensed milk and blend until smooth. If you don't have a blender, pop the cornflakes in a freezer bag and bash with a rolling pin or a full water bottle, then tip the pieces into the coconut milk and leave to steep for 2 hours until very soft and soggy. Combine with the condensed milk.
Step 2. Spoon the milky cornflake concoction into ice cube trays and freeze for 2 hours.
Step 3. Once frozen, pop the cubes out into a large mixing bowl and leave to thaw for 5 minutes. Beat with a wooden spoon – this may take some effort, but persevere until it is thick and creamy. Transfer the ice cream to a freezerproof container and return to the freezer.
Step 4. Remove from the freezer 10 minutes before you want to serve it, to allow it to soften, and mix well before serving. Sprinkle with honey nut cornflakes to serve.