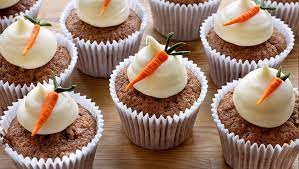 Decorate Dan Lepard's rich carrot cupcakes with mini-chocolate Easter eggs at Easter time, or top with sugar-paste carrots for the rest of the year.
Preparation time less than 30 mins
Cooking time 10 to 30 mins
Makes about 12
Ingredients
275g/9¾oz caster sugar
200ml/7fl oz sunflower oil
4 medium free-range eggs
about 300g/10½oz grated carrot, a little more or less is fine
up to 150g/5½oz nuts or dried fruit (optional)
225g/8oz spelt or wholemeal flour
2 tsp baking powder
1 tsp ground cinnamon
1 tsp mixed spice
1 tbsp cocoa powder
For the cheese frosting
125g/4½oz unsalted butter, softened
125g/4½oz full-fat cream cheese
275g/9¾oz icing sugar
edible decorations (such as sugar-paste carrots or mini-chocolate Easter eggs), to finish
Method
Step 1. Preheat the oven to 180C/350F/Gas 4 and line the pockets of a muffin tray with muffin cases.
Step 2. Beat the sugar, oil and eggs in mixing bowl until smooth, then stir in the grated carrot and, if you like, up to 150g/5½oz chopped nuts, dried fruit, or a mixture of both.
Step 3. In a separate bowl combine the flour, baking powder, spices and cocoa so that they're evenly mixed, then tip this into the carrot mixture and stir well.
Step 4. Fill the muffin papers to about two-thirds full, then bake for about 25 minutes, or until a skewer poked in comes out almost clean.
Step 5. For the frosting, make sure the butter is soft, then, using a whisk or electric mixer, beat it with the cream cheese in a bowl until smooth and light.
Step 6. Stir in the icing sugar with a spoon until it begins to come together, then whisk again briefly until light and smooth. Pipe or spoon blobs of the frosting on each cold cupcake. Decorate with sugar-paste carrots or, say for Easter, with mini chocolate Easter eggs.